Comedy Wildlife Photography Awards Exhibition
Cost
Entry to this exhibition is $0
When
Tuesday 15 August - Sunday 29 October 2023
Where
Newcastle Museum
6 Workshop Way
Newcastle 2300
View on map
How it all started ...
While living in East Africa and working as a wildlife photographer, founder Paul Joynson-Hicks MBE was looking through his photographs when he came across several that made him laugh out loud: an eagle looking at me through its back legs and a warthog's bottom. He realised that the humour of these photographs was both entertaining and a means to engage people with the threats facing these same animals.
A funny animal photo is incredibly effective because there are no barriers to understanding, or taboos that must be negotiated. It taps into the impulse for anthropomorphism (big word!) which is well-documented as one of the most powerful triggers for human empathy. To really understand animals and the issues that affect them, you need to
empathise with them as fellow inhabitants of the same planet.
And so, in 2015, The Comedy Wildlife Photography Awards was born from Paul's small office in Usa River on the slopes of Mt Meru in northern Tanzania. Soon after, Co-Founder and photographer Tom Sullam was bought on board and then Michelle Wood, a couple of years later.
Since then, steered by its founders, the competition has grown and grown into a global competition that's able to make a meaningful contribution to the amazing world of wildlife.
The images on display were selected, from a compilation of the top 40 finalist images from each year, spanning back to 2015.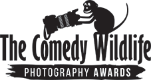 COMEDY WILDLIFE PHOTOGRAPHY AWARDS EXHIBITION
An exhibition by Comedy Wildlife Photography Awards
in association with TE and the Newcastle Museum